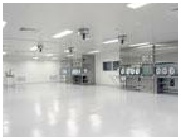 Specialist Flooring
Contractors




Copyright ©2013 Prosser Flooring (Pharma/Biotech) Ltd / Graham J. McLusky & Licensors | Web Master | Site Map
Prosser Flooring (Pharma/Biotech) Ltd - Directors: Nigel J Prosser - Tracey J Prosser - Co. reg. no. 08151361
The business was established by Nigel Prosser in South Wales in 1984 after his departure from the steel & engineering industry. It became a partnership in 1995 when Tracey Prosser joined the business in a management capacity, having left a successful Civil Service career as an Inspector of Taxes for HM Revenue & Customs.
The business relocated to the Midlands as the enterprise expanded with
coverage throughout the UK & subsequently Europe & the USA.
Healthcare Facilities

Universities

Sterile Suites & Aseptic Areas

Containment Facilities

Manufacturing Areas

Cleanroom Finishes

Hygienic Flooring Solutions

Contamination Control
Baxter Thetford
Bassaire Ltd
We offer a personal and professional service to an increasing number of leading companies requiring highly durable, impervious, sterile finishes that are easy to clean & maintain.
Our commitment to quality & service means that Prosser Flooring continues to grow throughout the UK & Europe.
Our philosophy is one of complete involvement, working in close partnership
with our clients to ensure that installations are carried out safely, with precision, to the highest standards, on budget & on time.
Personal & Professional Service
Health
Pharmaceutical
Biotech
Bioscience